Our Operation - Screenprinting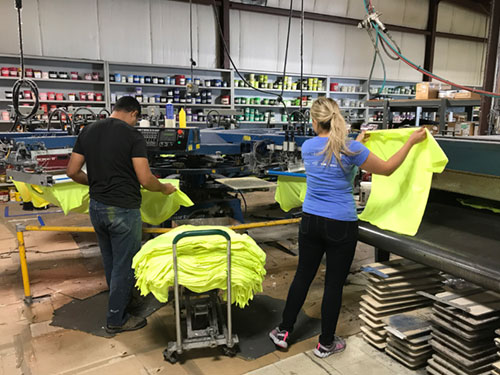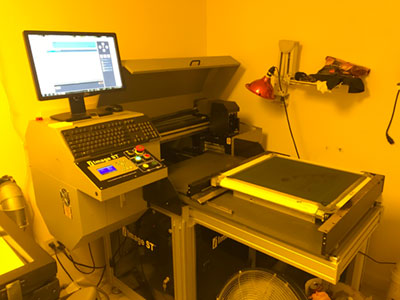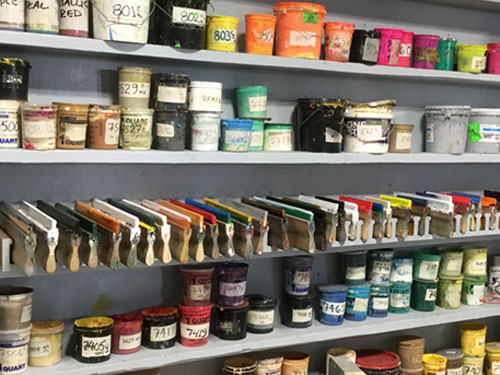 We are the first company in New England to utilize the Direct-to-Screen imaging system. This is a process that allows us to apply artwork separations directly to our screens from files generated in our computers. This digital to digital process allows us more accuracy when printing process color prints. We use a pin system registration for faster set-up and consistency when re-ordering.

Each job that we process is entered into our vast database. Information pertaining to details such as design, ink used, mesh sizes, contact info, quantities, etc..are entered in our database and preserved for future projects. Visit our Partners Program page for details on how you can access information on past work completed through Midland Graphics.

Our screen printing facility includes 8, 10, and 16 color automatic screen printers, 2 manual (6 color) stations and a system for direct number screening. We also can provide numbering and lettering with our state-of- the-art heat sealing machines.

We cover all aspects of screenprinting. From simple 1 color to process color prints on darks, we've perfected the art of applying your design on custom wearables. Our capacity to handle large volume orders, quality printing, and delivery of goods on time puts us above our competition.



Design Quality
Our professional staff of screen printers, sales staff, and art department provide a system of oversight on each job we process.
We pride ourselves in producing the best quality for our customers.




Color Matching
We match all colors to the Pantone color system.
All other colors not within this sytem would need to be transposed by our staff and approved by our clients.

Special Inks may require an additional cost.


Midland Graphics Pricing
(click for price breakdowns per piece)

Set Up Costs

Screen Charges:
A one-time initial charge for screens are required for all job we process. This charge does not apply to reorders unless the artwork has been altered from the previous design. In this event, a new charge will be applied to whatever screens were altered.

The followingScreen Charges apply:

• Full Size - $25 per color
• Heart Size - $15 per color
• Hat / Visor - $15 per color
Oversized or awkward screens require a special price quote.

Garment Minimums:
There is charge for orders that do not meet the minimum requirements for a screening run.
For additional information, Click here for our Screen Imprint Charges page.



Art Prep Charges:
All artwork that we receive will first be subject to review by our art department. Our graphics specialists will evaluate your graphic files and produce the necessary plates for the best possible production. Art charges are $45.00 per hour on artwork that requires more than 15 minutes of time processing. Artwork processed within 15 minutes will not be subject to an art charge.
For further information as to sending artwork to us and minimizing your art charges
visit our Art Guidelines page.

Special Packaging
The following charges apply:
• Machine Folded (short sleeve) - $0.20 ea.
• Machine Folded (long sleeve) - $0.25 ea.
• Hand Folded (jackets etc.) - $0.35 ea.
• Bagging and Sealing - $.10 ea.
• Supplied stickers or hang tags - $.10 ea.
• Unpackage - Repackage -$.10 ea
RUSH CHARGES
Orders requiring 5 day or less delivery - 10% of Total or $ 75 minimum